Morongo Unified School District provides limited transportation privileges for pupils; parents or guardians are not allowed to ride the bus without special permission from the school Principal, and only in limited special circumstances. Bus stops are spaced throughout the district between 3 and 5 miles in most cases.
Please review safe walking guidelines with your student. Wearing hoodies or head wear which blocks peripheral vision or ear buds which block hearing may put children in danger while walking. Riding the school bus is a privilege and can be revoked for failure to follow the bus rules as outlined in the Parent/Student Handbook.
Bus drivers wanted
Student Transportation of America is hiring school bus drivers and Special Education school bus attendants.
See below for more information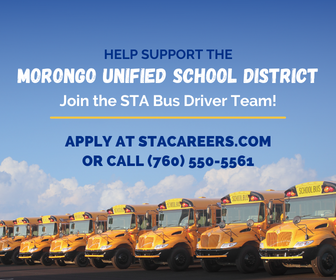 Morongo Unified School District
Transportation Department
P.O. Box 1209
Twentynine Palms, CA 92277
Phone: (760) 367-9191
Fax: (760) 361-7882
Jack Salseda Jr
Risk & Transportation Director
Find the schools that fall within the boundary of your home address
IS THE BUS ON TIME?
MUSD Transportation is pleased to offer you a great new tool to see if the School Bus is on time.